PRAYER
---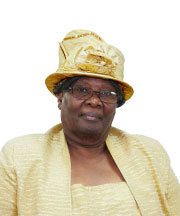 Una Lawerence
Minister of Prayer
The Prayer ministry provides consistent intercessory prayer for the church, community and extended church family, mobilizing the entire congregation into an army of prayer warriors. Prayer is considered to be one of the most imperative ministries at Pentecostal Tabernacle. No ministry will be effective unless it is bathed in prayer. Every church member is encouraged to be in Intercessory Prayer.
Ministry of Prayer and Intercession includes the following:
Sundays
Tuesdays (Fasting)

10:00 AM – Daytime Prayer
6:00 PM – Men's Prayer

Fridays

7:30 PM – Friday Night Prayer
9:00 PM – Late Night Prayer (1st Friday of every month)
---
PRAYER WALL
Submit Your Prayer Request
Fill out the form below with details about your prayer request.